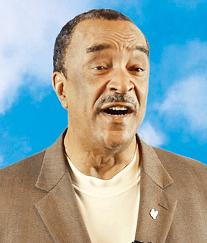 AL'S FAVORITE TRAINING TOPICS
---
---
---
---
---
Professional Background
Al Spinks is a leadership expert, military veteran, and thought leader. Like you, he's seen so-called experts and self-proclaimed leaders who have book knowledge but very little actual life experience. Maybe that's why they discuss statistics and the results of studies. What are the life lessons, the ones indelibly engraved on their hearts, they have to share with their audiences?
With more than four decades of experiencing life as a submariner, US Marine officer, naval aviator, successful entrepreneur, author, mentor, and life coach, Al's take on living is radically different.
He appreciates life and shares with his audiences that it's "a participative event and must be fully embraced."
Al's enthusiasm, real-life stories, and conversational tone allow him to connect with his audiences on an intimate, intense, and personal level. His coaching and mentoring clients appreciate how he helps them overcome fear, worry, and doubt, while focusing more on the present moment.
View a video of Al Spinks training on Dealing with Stress in Life:
View our Stress Management and Employee Development courses.
Experience
Al's experiences include living on board a fast-attack nuclear submarine and flying numerous missions from aircraft carriers in bad weather. His marketing expertise was gained from inside corporate America while marketing mainframe computers for IBM. He is the founder of a small business recognized by Inc. Magazine as one of the 500 fastest-growing, privately held corporations in America.
Al has also served as chairman of the board for two non-profits and currently occupies a seat on the board of directors of the Silver Fox Advisors. The Silver Fox Advisors is an association of corporate CEOs, senior consultants, visionaries, business leaders, and former entrepreneurs who provide mentoring and consulting to businesses of all sizes.
These experiences, some of them in the most stressful environments imaginable, helped Al create an approach to life he calls the 3Rs. This concept allows you to: (1) Recognize your circumstances, (2) Create an action plan to Reconcile your goals with the circumstances, and (3) Apply this plan to Reconnect with life. This simple and non- judgmental framework will improve your interpersonal skills, your productivity, and your health. At the same time, you'll experience life's tough times and your problem areas in a calm, confident, creative, and connected manner.
Education and Certifications
ACEP Certified
Northwestern University – Kellogg School of Business Management, NMSDC Advanced Management Education Program
BS Aerospace engineering – University of Texas, Austin
U.S. Marines – Officer
Naval Aviator - EA–6A Intruder