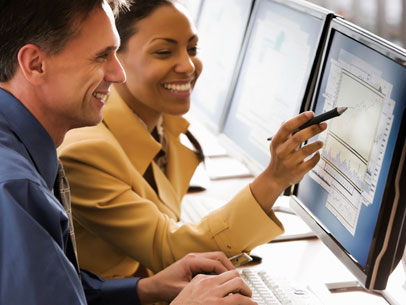 EXPLORE TRAINING OPTIONS
---
Computer Skills Onsite Training and Webinars
---
Computer Skills Online Courses
---
---
Computer Skills Training Course Directory
---
Computer Skills Training Delivered in Onsite, Webinar and Online Formats
We have all been there. We buy the newest, fastest software or hardware for our employees and are disappointed that productivity does not increase by leaps and bounds. Often, the best functionality is left in the box because we do not get our employees the training they need to use the tools effectively. They do not have time to learn all the features on their own and still get the work done. Besides, who is going to read all the manuals anyway, particularly now when there are few real manuals with software and hardware? The "manuals" are all buried in the "help" screens, which are difficult to study at best.
---
Don't leave the value in the box!
---
Professional training makes certain you can receive full value for your technology investments. Ensure that all employees have the knowledge they need on how to use the software, not merely one expert who answers all questions. If they are answering questions, then who is doing the work that they should be doing?
"Training is probably the most important aspect of buying a computer system."
Barry Knowles Inc. Magazine
The computer skills training at Alliance can improve your skills no matter what level is your starting place. The topics are divided into basic computing, office packages, desktop publishing, programming, and server technology. As with all of Alliance's courses, the computer skills courses are customized to the specific needs of your company and technology needs.
---
Featured Trainers in Computer Skills