Covid-19 Return to Work Safety and Health Protocols
---
Stay-at-home orders are being lifted. Hooray – maybe…
Have a Covid-19 Reopening Plan.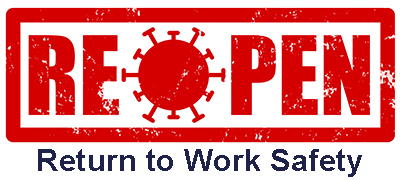 Get answers to your safety and health concerns and implications bringing back a workforce that may or may not have COVID-19 – knowingly or unknowingly.
---
This session is customized around the specific

Covid-19
issues your organization is facing.
---
This 75-minute

live, instructor-led webinar

answers your questions organizations such as:
Can I query my employees about their current health conditions before allowing them to return to work?
Can I force my employees to return to work if they are fearful of being exposed to COVID-19?
Can I force my employees to have their temperatures taken each day before I allow them to enter work spaces?
Can I force my employees to wear a face covering, e.g., face masks?
If I make wearing face coverings or using other PPE mandatory, do I have to pay for OSHA mandated respirator fit testing and/or PPE generally?
Do I have to comply with the Families First Coronavirus Response Act's (FFCRA) paid sick leave and/or expanded family and medical leave related to COVID-19 through December 31, 2020?
This fast-paced, information and guidance rich 75-minute webinar answers those questions, and more…
---
Your facilitator:
Max Muller has more than 30 years of business experience as an attorney, businessman, instructional designer, trainer and author. Max has designed and developed countless programs for continuing education for organizations such as Rockhurst University Continuing Education Center, Park University, The American Management Association, and Alliance Training and Consulting. He is the author of several books including, The Essential OSHA Self-Study Guide, The Fundamentals of Inventory Control and Management, and Essentials of Inventory Management. Max has also collaborated on publications in employment law. (Click to see Max Muller's bio.)
---
The program is divided into a 60-minute presentation and 15-minutes of Q&A. A PDF master copy of supporting materials is included with the session.
Prior to the session Max will discuss specific issues to understand any special concerns you may be encountering as you return to work.
Typical Topics Covered:
CDC guidances related to return to work issues.
Department of Labor (EEOC) regulations and guidances regarding employee return to work medical inquiries and testing (e.g., taking temperatures).
OSHA standards and guidances implicated by COVID-19 return to work issues
Job security and Fair Labor Standard Act (FLSA) issues.
Continuing requirements of the Families First Coronavirus Response Act (FFCRA).




Return to work written policies.
For more information:
Call 1-877-385-5515 or email
This email address is being protected from spambots. You need JavaScript enabled to view it.