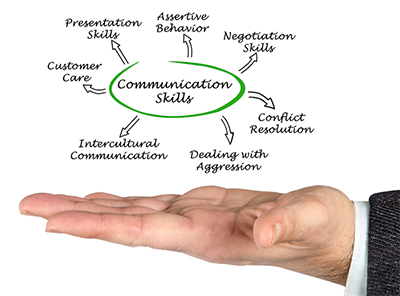 EXPLORE TRAINING OPTIONS
---
Communication Skills Onsite Workshops and Webinar Courses
---
---
---
---
---
---
---
Communication Skills Training Course Directory
---
Communication Workshops, Webinars and Online Courses for:
Improved Interpersonal Relations

Effective Presentations and Briefings

Better Business Writing

Conflict Management

Whether you are communicating with bosses, coworkers, customers, vendors, or peers, using effective communication is essential to career success.
Our onsite Communication Skills Training seminars, workshops, and online communication courses are designed to improve interpersonal communication, presentation, business writing and conflict resolution skills for today's workplace.
---
Experiential workshops, webinars and online courses build verbal and written communication skills.
---
Interactive training - not lecture based. Our courses are participant-focused, and designed to help participants identify tactics they can put to use immediately when back on the job.
All of our employee training programs are highly interactive with learning activities designed around adult learning principles.
The interactive exercises, cases, discussions and practice sessions used in the training are tailored to your organization and your learner's level of experience. We make the learning experience "real world" to ensure learner engagement. Our goal is to maximize the transfer of learning from the classroom to on-the-job application.
These communication courses help individuals communicate and influence the perceptions of others in virtually all business and personal interactions. Some people may need to improve their written communication for more clear and concise business emails, letters and reports. Others may need to develop their presentation skills to give better presentations to bosses, teams or large groups. Others may need training to improve their technical writing or technical presentation skills.
---
Help corporate teams and individuals communicate better.
Learn skills to deal with conflict productively, effectively and successfully.
Make better presentations and briefings.
Prepare difficult and crucial workplace conversations.
Influence others and reach consensus for greater success.
Develop skills to listen more effectively.
Reduce misunderstandings and miscommunication.
Improve written communication skills for emails, proposals and more.
Conduct more effective meetings to save time and improve results.
In each situation, our Communication Skills Training Seminars and Workshops are tailored to develop the specific communication skills you need. Participants in our business communication courses leave with new skills to communicate effectively, persuasively, and concisely for better understanding and better business results.
---
Questions to identify some of the most common verbal and written communication challenges employees face in today's workplace.
Are emails not being read or email instructions not being followed?
Is letter writing creating problems due to poor grammar or spelling errors?
Is written communication not being proofread effectively?
Do you have difficulty writing or presenting technical data to non-technical people?
Do you get writer's block?
Are your letters and reports too wordy?
Do you dread giving presentations and public speaking?
Do you have difficulty communicating with some individuals due to their style?
Do people sometimes fail to communicate with diplomacy and tact?
Do you find it hard to cope with some people at work?
Is communicating through conflict and resolving issues a challenge?
Do you need to bridge the communication gap between generations at work?
Are gender differences, generation gaps, or cultural issues creating problems in your organization?
If you answered "Yes" to any of these questions, our communication skills training is for you!
Our onsite communication skills seminars and workshops help individuals overcome these challenges and more. Our communication skills training helps employees at all levels improve their professional image and get better results through improved writing, presentation and negotiation skills. Each course is tailored to your specific learning objectives. Our online communication skills courses provide an individualized approach to your workplace communication training needs.
---
Poor communication skills carry a great liability.
Employees who cannot communicate effectively do not get promoted. The manager who does not know how to communicate effectively with staff members will lose their cooperation. The salesperson who does not understand how to use effective listening skills will lose the sale, and the list goes on...
Learning how to use tact and diplomacy can help in a variety of situations. For example:
When working with difficult people or in difficult negotiation situations, we often react emotionally. This response is natural but counterproductive.
Many times we perceive people as being more hostile than they really are and our reaction can contribute to their misunderstanding.
Many times we fail to ask enough questions. An effective communicator will know the art of asking questions and how questions can increase understanding.
For more information on our courses, email us at: This email address is being protected from spambots. You need JavaScript enabled to view it.. Or, call us at 877-385-5515. We will answer all your questions.
---
Featured Trainers in Communication Skills