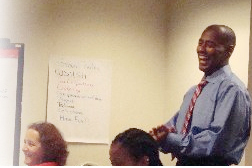 CRAIG'S FAVORITE TRAINING TOPICS
---
---
---
---
---
---
Professional Background
Craig Coble is a certified executive coach and has received his CTI CPCC certification and ICF, ACC certification. In December 2009, Craig was nominated to sit on the Washington DC Chapter of the International Coaching Federation Board of Director's. Craig is also an adjunct faculty at the University of Maryland University College with the National Leadership Institute through the Center for Creative Leadership and he conducts Leadership Development Programs on a regular basis.
Craig is known for his ability to quickly establish rapport, and produce workable and results-oriented action plans. His workshops help you discover what motivates you personally and identify how to link your motivation with your work environment for maximum success.
Experience
Craig Coble has over 15 years of training experience enhancing people's businesses skills throughout the world. He is an established international speaker, facilitator and executive coach.
Craig's career journey began with the disabled community in January 1982. With the Disability Rights Education and Defense Fund at The White House, he was directed by Special Counsel C. Boyden Grey, (under Vice President Bush) to rewrite section 504 of the Civil Rights Act. Craig continues to work closely with the disabled community by facilitating numerous workshops on Motivation, Leadership, Communication Skills, Career Planning and Teambuilding.
In 2000, Mr. Coble joined a health and skin care company headquartered in Hong Kong. As a Regional Manager for Southeast Asia, Craig increased sales by over 200% by developing a distribution network and training his sales force. Traveling extensively throughout China, Malaysia, Singapore and Indonesia, he conducted workshops and seminars. Upon his return, Mr. Coble has facilitated training workshops for VISN 9 of the Mid – South VA Healthcare System, The British Embassy in Tokyo, Japan, Echolon in Hamilton, Bermuda, The Department of Justice, Department of Homeland Security, Judiciary Courts for the State of Maryland, VA Mid – South Healthcare system, Sofitel Hotel, The Washington Post, Industrial Bank of Washington, Calvert Investments and other financial and nonprofit institutions to name a few. Craig specializes in Leadership, Communication, Managerial Development, Career Enhancement, Motivational and Diversity topics. Craig is also certified in MBTI, Achieve Global and Emotional Intelligence and is ICF Certified as an ACC.
Education
Bachelor of Science in Psychology, George Washington University, Washington, DC
Attended New York Law School, New York, NY
Certifications
DISC Certification
MBTI Certified
Certified in The Leadership Circle
Certified Executive & Life Coach
Achieve Global Certification for their Leadership and Customer Service workshops
Emotional Intelligence Certification
Certified Action Learning Coach
Certified in Richard Barrett Organizational Diagnosis Tool (CTT)