Sample 360 Feedback Surveys, Reports and Assessment Tools
---
360 Assessments for Senior Leaders, Managers, Service, Technical and Staff Employees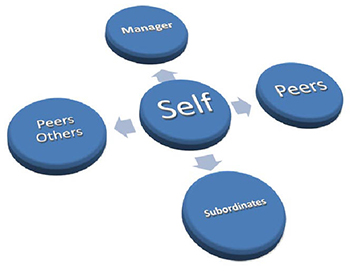 Our 360-degree feedback services allow you to systematically collect opinions about an individual's performance from a wide range of sources. Sources could include peers, direct reports, the boss('s), peers and people outside the organization, such as customers.
Getting this feedback allows a person to get a panoramic view of their performance - not just their own opinion. The 360 feedback becomes a valuable tool to help an individual identify areas of strong performance and performance areas that need improvement. Our 360 Feedback Reports and online 360 Report Tutorial (View Demo) also provide users with with a wealth of information on how to improve and a template to develop their own personal development plan.
---
Online 360 Assessments measure behaviors against a specific set of job competencies.
---

Our 360 feedback assessments are role-specific, measure behaviors not traits, and are compared to extensive normative data. Each one of our 360 feedback assessments have been analyzed for reliability so you can choose one of our surveys with confidence.
Validated, Reliable Assessment Tools:
Our 360 degree feedback is trusted. These 360 Feedback Assessments are backed by over 40 years of 360 experience. Reliable results of the assessments can confidently be used for development in critical skills and performance competencies.


---

360 Assessments for All Levels of Leadership and Employee Development


(Download Sample 360 Reports -see below)
Senior Leader 360 Feedback Assessments
Executive Leadership Survey (ELS)
Leadership EQ (LEQ)
Management 360 Feedback Assessments
Advanced Management Practices (AMP)
Leadership Competencies for Managers (LCM)
Survey of Management Practices (SMP)
Individual Contributor 360 Feedback Assessments
Aspiring to Leadership
Technical Professional Survey (TPS)
Client Relations Survey (CRS)
Special 360 Feedback Applications
Sales Management (SMS)
Survey of Coaching Practices (SCP)
360 Feedback for Government Agencies
Several of our 360 Feedback tools are specifically designed for government agencies. These assessments include:
Cornerstones of Government Leadership (CGL)
Executive in Government Leadership (EGL)
Leader Competencies in Government (LCG)
---
For more information on our assessment tools call: 877-385-5515
---
If you are interested in receiving a sample report on any of the assessment tools simply fill out the form below:
Downloadable Sample 360 Feedback Reports Available Include:
Alliance Training has partnered with The Booth Company to provide you with over 4 decades of 360 assessment experience.
These validated 360 feedback tools are role-specific and measure fundamental skills and competencies of executives, managers and individual contributors.