Maggie Sizer, Ph.D.
---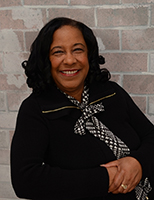 MAGGIE'S FAVORITE TRAINING TOPICS
---
---
---
---
---
Professional Background
Dr. Maggie Sizer is a frequently requested business trainer and speaker. She has over 20 years experience coaching and training business professionals and students in effective career management strategies.
Background and Experience:
Originally from California, Dr. Sizer secured her advanced education while serving as an Air Traffic Controller in the U.S. Air Force. After 13 years of military service, Maggie pursued a career in the Transportation Industry, and completed two additional Masters degrees and ultimately a PhD in Intercultural Education in 2001.
She has served as an Academic Dean and Associate Provost with Strayer University and is an expert at coaching and training business professionals and students in effective career management strategies.
As an award-winning educator, speaker, presenter, and teacher, Maggie has used her extensive portfolio of executive skills to create proprietary programs for individual clients from a broad range of backgrounds and experience levels . In 2017, Dr. Sizer was unanimously voted as Volunteer of the Year by the Accrediting Commission of Career Schools and Colleges which recognizes individuals from the ACCSC community who have made significant contributions to career education through dedication to, and support of the accreditation process.
In 2008, she was the recipient of the Lead Hampton Roads Award for exemplary leadership in higher education. That same year, she also received the Donald R. Stoddard Faculty Award of Excellence, which honors a Strayer University faculty member for outstanding teaching skills and sincere passion for the profession.
Dr. Sizer was referred by the Project Management Institute (PMI) to evaluate, critique and finalize a comprehensive Project Management Curriculum and workshops.
Maggie enjoys project management training and has also presented several successful webinars for the PMI. She is known for her sense of humor and student engagement, bringing a fresh perspective to the classroom to encourage participation.
She travels throughout the United States teaching and empowering both private and government leaders facilitate improved outcomes in the organizations they manage.
Education:
PhD in Inter-cultural Education
Additional Facilitation and Practice areas include:
PMI Certification
DiSC® Assessments
Myers-Briggs
TKI Assessments