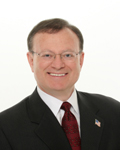 MAX'S FAVORITE TRAINING TOPICS
---
---
---
Professional Background
Max Muller has more than 30 years of business experience as an attorney, businessman, instructional designer, trainer and author. Max has designed and developed countless programs for continuing education for organizations such as Rockhurst University Continuing Education Center, Park University, The American Management Association, and Alliance Training and Consulting. He is the author of several books including, The Essential OSHA Self-Study Guide, The Fundamentals of Inventory Control and Management, and Essentials of Inventory Management. Max has also collaborated on publications in employment law.
Experience
Max spent the first seventeen years of his career in various operating and executive positions with distribution and information technology companies. He served as Director of Operations and Transportation for Isis Foods, a breadline foodservice distributor based in the Midwest. He also served as President and Chief Operating Officer of Electronic Processing, Inc., a provider of computer services in the fields of case management, data processing, and Notice of Hearing for Bankruptcy Trustees.

In 1990, Max Muller began his consulting career focusing on providing practical solutions in the areas of workplace legalities, e.g., equal employment opportunity, sexual harassment, FMLA, ADA, COBRA, FLSA, ADEA, etc.; safety and health regulatory compliance (OSHA); facilities management (including security and disaster planning); and, warehousing/inventory control. He has presented more than 3,000 seminars, keynote speeches, and audio-conferences world wide.


View a video of Max training on Human Resources and the Law:
View all Human Resources and Employment Law courses.
Education
1973 University of Kansas School of Law, Lawrence, KS Juris Doctor
1969 University of Kansas, Lawrence, KS Bachelor of Arts, Sociology
1974 Attorney at Law, Licensed State of Missouri
Certifications
Licensed Realtor, Kansas
OSHA 501, 503 authorized trainer