Penny Blue, MBA, PMP
---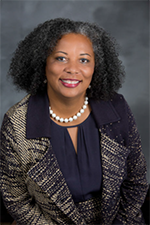 PENNY'S FAVORITE TRAINING TOPICS
---
---
---
---
Professional Background
Penny is a life/career coach, business consultant, professional speaker, information technology expert, and project manager with a proven track record of managing people, programs, and projects worldwide.
Penny Blue is a leadership and project management expert, professional speaker, and dynamic trainer for all levels of management and staff in corporate, small business, nonprofit and government (federal, state and local) environments.
Background and Experience:
Ms. Blue has a proven track record in managing people, programs, and projects worldwide. She specializes in Leadership Strategy, Leadership Skills Development, Management and Project Management.
Before becoming a trainer, Penny worked as a Delivery Project Executive at IBM where she engaged in data center operations, customer care, application development/maintenance, distribution systems, databases, process improvement, human resources, financial management of budgets up to $700 million.
Ms. Blue's training and employee development experience crosses many industries including: large and small businesses, government agencies, and nonprofit organizations. She has the ability to speak to and connect to the untapped resource in every human being. These skills and her passion to bring people together for superior team results make her a highly requested trainer.
View a video on Penny Blue's workplace generation gap training:
Penny can grasp the big picture and parlay that vision and connection to motivate others to action. As a founding member of the Friends of Booker T. Washington National Monument and serving as the organization's president for over 8 years, she was responsible for community outreach, budgeting, membership growth, strategic planning and program/project management.
Penny offers training to help individuals, teams and organizations maximize focus, productivity and enthusiasm while alleviating costly problems and effectively managing risks.
Her excellent interpersonal skills, project management experience, logical decision-making and problem-solving skills, and her ability to see the big picture make her a worthy asset to any business development initiative. She recognizes the most common mistake made in teams and organizations is losing sight of the "Human Element". Penny is focused on infusing "The Human Element" within teams and organizations.
As a Certified Coach, Penny Wise provides energetic, interactive sessions that allow employees to discover and achieve their goals.
Education:
Mathematics degree from Hampton University
MBA from Duke University
Certificate in Project Management from George Washington University
Certificate in Entrepreneurship from University of Virginia
Certificate in Minority Political Leadership from Virginia Commonwealth University.