Workplace Bullying: What Everyone Needs to Know - $27.00
---

Learn how to prevent and effectively control workplace bullying.
Product Code: WPBullying_EE
Duration of Course Access: 12 months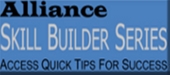 ---
Workplace Bullying: What Everyone Needs to Know

Everyone should be treated with dignity and respect at work.


While we can all agree with that statement, workplace bullying is a problem in today's workplace. Surveys on workplace bullying have shown that about 54 million Americans report being bullied at work and that approximately 15 million workers experience psychological aggression on a weekly basis.
Workplace bullying can have a significant threat to the health, safety and welfare of people in the workplace and cause reduced productivity, low morale, increased absenteeism and higher levels of staff turnover.

Note: This course is designed for all employees in all organizations whether or not there is a specific policy against bullying.


In this session, participants receive practical advice on preventing and controlling workplace bullying and how to effectively deal with any cases that occur.


Course Overview
In this course participants learn:
To recognize workplace bullying: obvious, subtle and covert
The impact of workplace bullying – on individuals and the organization
The difference between bullying and harassment
Demanding bosses are not necessarily bullies
The difference between bullying and aggression
What the law says about workplace bullying
Specific actions to take if they are being bullied or see someone else being bullied at work
How to report bullying
How to apply a Five Step Plan to stop the bully from bullying you
Specific actions and what to say to:
Stay in control of yourself
Use a One-Step Technique to get in control of the situation
How to defuse a situation before it gets out of hand
Additional resources
and more…
Participants will receive:
Skill Builder Quick Reference Guide: Quickly reference the techniques and tools developed in this course.
Certificate of completion: Upon successful completion, you will receive a certificate of completion from the Alliance Skill Builder Series of courses.
This course is self-paced and online.
You will have access to this course for 12 months.
Target Audience: This course is designed for all employees. (The course is designed for all organizations whether there is a specific policy against bullying or not.)
Estimated Time to Complete: 20 minutes


---
View: Employee and Personal Development Courses, Seminars and Workshops